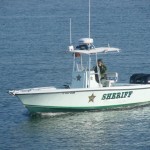 "They always have a good time out there, tie up their boats," boater Kaleb Binzant said.
It's these rowdy parties on a particular Beaver Lake cove Benton County sheriff's deputies will be cracking down on.
"They go from boat to boat and hoop and holler," boater Chip Kinion said.
"We've seen as many as 50 to 60 boats in this particular cove," Captain Mike Jones, with the Benton County Sheriff's Office, said.
Boats with passengers who deputies say have taken too many spills, for too long.
"We want to get the word out early that law enforcement will be here," Jones said.
Boaters like Kinion are glad to see an increase in law enforcement on the water.
"They do over indulge a little bit sometimes, think they ought to be a little more careful there," Kinion said.
But Binzant, a fisherman and father says he'd bring his daughter to the cove.
"Never heard about it being a dangerous area, or a dangerous spot," Kinion said.
Jones says the blue lights will be flashing more than ever and anyone caught boating under the influence or acting disorderly will be arrested.
Last year Benton County sheriff's deputies spent nearly 500 man hours out here on the lake patrolling the area and Jones says he anticipates deputies will put in even more hours this time around.
"We have trained more of our full-time deputies on the safe operation of water crafts," Jones said.
So for the boaters who trickle in to this party spot each year, consider yourselves warned, deputies say common sense can help keep you here…
"We want them to enjoy their time out here, but we want them to do it in a manner that is safe," Jones said.
And not behind bars.
Source:
http://nwahomepage.com