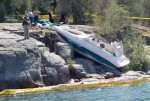 Every year, about 700 Americans die in recreational boating accidents. Not surprisingly, a disproportional number of those accidents occur in the summer months, when we're more likely to be out on the water—and less likely to be thinking about personal safety than about keeping the ice cold and the cooler well-stocked.  Since 1965 108 people have drown in Beaver Lake, and the lake has already claimed its first victim of the 2012.  These tips can help you from adding to this statistic. "People suffer from that cabin fever," says Frank Jennings Jr., the recreational boating safety program manager for the Great Lakes region, where there are more registered pleasure boats than in any other Coast Guard district. "They've been cooped up all winter. The weather is finally getting warmer, the lakes are open, and they want to get out there and boat as much as they can before the season's over." Luckily, better technology (and a hearty dose of common sense) is making it easier than ever to keep yourself safe on the water. Here are the Coast Guard's top tips on boater safety.
Stay Afloat
You've heard it before: Life jackets save lives. According to Coast Guard studies, 90 percent of drowning victims were not wearing a personal flotation device (PFD). Of the remaining 10 percent, many were wearing a model that wasn't designed to keep the head out of the water after the wearer lost consciousness. Legally, having PFDs in the boat is good enough—it's not mandatory that you wear a life jacket, just that there's one onboard for each person on a boat. And there are plenty of reasons boaters usually leave the jackets below deck: They can be bulky and uncomfortable and seem unnecessary on warm days.
"The air temperature may be 72 degrees F, but the water temperature is still in the 50s," Jennings says. "People do get that false sense of security," he says. "They never think there's a chance that they could slip and fall." The bad news is that once in that water, it can take as little as 60 seconds for an adult to drown. The good news is that today's life jackets are less cumbersome than older models. For $40 or $50 you can get a comfortable vest-style PFD designed to keep your head above the surface. Sleek, suspender-like, inflatable models popular with sailors but great for anyone who's looking for barely noticeable protection run closer to $100.
Stay Alert
It's a sad fact that 17 percent of all recreational boating fatalities are the direct result of drunk boating, or BUI (boating under the influence). While attitudes toward land-based drinking and driving have evolved significantly in the past couple of decades, downing a cold one as the wake fans out behind you still feels like a rite of summer. "It's not illegal to drink in boats. The problem is, people often don't know when to stop," says Jennings, whose office has seen accidents in which drunk boaters plowed into bridges, jetties, as well as other boats. "Very rarely is a stone-sober mariner involved in a serious boating accident."
In most places, boat operators can be cited if their blood-alcohol content is above .08, though punishments for BUI offenses remain less stringent than for DUI accidents. Many of the dangers are the same, though, including the added hazards of night-time driving. "Judgment, of course, is the first thing to go, and then perception," Jennings says. "They don't necessarily know that they're going as fast as they are. Things on a boat on the water look entirely differently at night or even when it's dusk. You lose that depth perception, and you don't recognize closing distances."
NO ONE IS DROWN-PROOF
 The Drowning Facts:  drowning is a leading cause of injury death for children one through four years of age.
For every drowning, an additional five near drownings are treated in an emergency room.
Drownings usually occur silently and victims are often believed to be playing in the water
Myth: Drowning victims call for help………WRONG
Fact: Drowning is suffocation in water, it's a silent death.
Myth: Drowning victims are alone when they go under……….WRONG
Fact: Drownings occur in the middle of crowds. Drownings are often mistaken for play, as victims try to push themselves out of the water.
Myth: Drownings don't occur quickly……. ..WRONG
Fact: Drownings can occur in as little as 20 seconds.
Myth: Victims are usually swimmers who went too far………WRONG
Fact: Drowning victims are usually poor swimmers or non-swimmers who never intended to enter the water.
Myth: Children are safe if they know how to swim and wear a personal floatation device…..WRONG
Fact: Children can easily panic and forget what they've learned. No one is ever "drown-proof," not you nor your kids.
Myth: If my boat sinks I can always swim to shore…….WRONG
Fact: Many people, including strong swimmers, can be overcome by hypothermia in cold water and drown. Cold water is dangerous, and the shoreline may be farther than it looks.
To Prevent Drownings , you should:
 Always supervise your children in and around water. Don't leave them alone, even for an instant!
Always wear a life jacket! California law requires anyone under 13 must wear a life jacket while on a boat.
Make sure the whole family learns to swim.
Never swim alone.
Learn CPR.
Look before you leap.
Drinking and swimming is just as dangerous as drinking and driving.
Kids don't float, life jackets do!
Keep these tips in mind when fitting yourself or your child in a life jacket
 Life jackets are not like clothes- you DON'T grow into them.
They should be Coast Guard-approved and the correct size for your weight.
Life jackets should fit snugly. The shoulders of the life jacket should not come up above the nose or ears when pulled up or it will not stay on in the water.
If your child's weight exceeds the children's sizes, you must purchase an adult-sized life jacket for them.
Life jackets are important, but they are never a substitute for adult supervision.