2011 Secchi Day Results
8
Nov
2011
A report on Beaver Lake water quality is now available on Beaver Water District's website at bwdh2o.org. The data is a result of water samples and clarity readings taken on Aug. 20th during Secchi Day on Beaver Lake, when citizen volunteers turned out to monitor 35 sites.
"We're looking at the health of the lake," said Alan D. Fortenberry P.E., CEO of Beaver Water District, the largest drinking water supplier for Northwest Arkansas. "This year, more than 550 people showed up to help with the overall effort and learn about water quality. Our participation has more than tripled since 2006, when the first Secchi Day was held."
Beaver Water District leads Secchi Day along with seven partner organizations –Audubon Arkansas, the U.S. Army Corps of Engineers-Beaver Lake, the U.S. Geological Survey, the University of Arkansas Cooperative Extension Service, Arkansas Master Naturalist, Hobbs State Park, and the Association for Beaver Lake Environment.
There are two goals associated with this event. One is to engage residents of Northwest Arkansas to participate as scientists and collect water quality data covering all of Beaver Lake on the same day. The second is to educate and inform the public. In addition to a complimentary lunch, hands-on activities include pontoon boat rides, a water challenge walk, Beaver Lake watershed model demonstrations, watershed limbo, a live fish tank, reptiles, bird watching and more.
"Environmental factors play a big role in the lake's water quality," Fortenberry said."During Secchi Day, we're not only collecting data, we're educating future generations about how to keep their drinking water source clean for years to come."
Secchi depth is a measure of water transparency that involves lowering a black and white disk into the water and recording the measurement when the disk is no longer visible. Secchi measurements this year ranged from 3.5 meters (almost 11 and a half feet) at near Beaver Dam to 1.1 meters (a little more than 3.6 feet) in the War Eagle Arm of the lake.
In addition to Secchi depth readings, water samples are analyzed by Beaver Water District's lab technicians. The technicians measure chlorophyll a, total phosphorous, and nitrate in each of the water samples. Chlorophyll a is a pigment in algae that is used to measure the density of the algal population in water. Phosphorous and nitrate are both nutrients that promote algal growth.
Beaver Lake is the source of drinking water for more than 400,000 Arkansans. A detailed Secchi Day 2011 Report with graphics may be accessed via the Beaver Water District website at www.bwdh2o.org. Next year's event will be held on Aug. 18, 2012.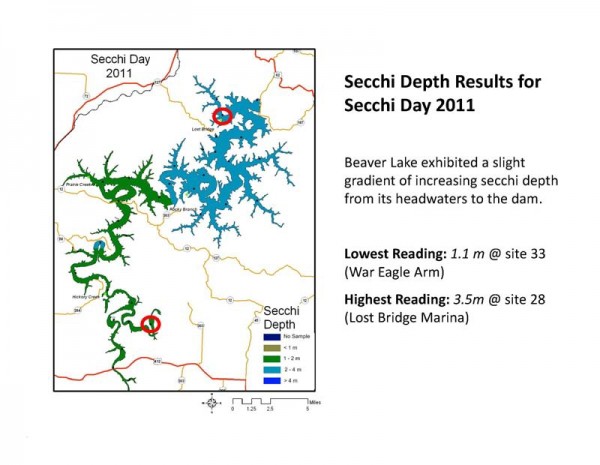 About Beaver Water District Beaver Water District supplies drinking water to more than 300,000 people and industries in Fayetteville, Springdale, Rogers, Bentonville and surrounding areas. These cities then resell the water to surrounding towns and communities. The District's mission is to serve our customers' needs by providing high quality drinking water that meets or exceeds all regulatory requirements and is economically priced consistent with our quality standards. For more information, visit www.bwdh2o.org.