Beaver Lake Eagle Tours Schedule Released
11
Dec
2012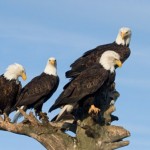 Hobbes State Park is starting up eagle tours on Beaver Lake.
Northwest Arkansas is the winter home for 200-400 eagles each year, and park rangers say the birds are starting to show up.
The tours take off from Rocky Branch Marina, and explore the Van Winkle area of the lake.
Rangers say January is the peak month for the eagle population, but the tours will be in full swing starting next week.
Registration and pre-payment are required. Call 479-789-5000 for more information and to register. Tours start at 3 p.m. on the following dates:
December 12, 15, 16, 19, 22, 23, 26, 28, 29, 30, 31
January 1, 2, 4, 5, 6, 9, 12, 13, 16, 18, 19, 20, 23, 26, 27, 30
Cost: $10 Adults, $5 children (6-12) under 6 free