Beaver Lake's Annual Lake Clean Up Saturday
21
Sep
2010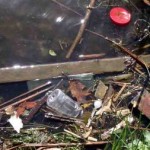 BEAVER LAKE, Ark. — Beaver Lake Ranger Alan Bland is frustrated with the amount of trash being dumped at Beaver Lake.
Bland is working to bring attention to the dumping problem with the lake's Annual Beaver Lake Cleanup, an event that brings the community out to pick up trash at the lake.
"There's all kind of trash in here: beer cans, bottles, trash bags," Bland said.
Bland said it's affecting wildlife, and it could also eventually get into our water supply. That's something that upsets Marcie Bleything
"I think its is just very sad because we have such a beautiful place to stay and spend time and to take your family. So I think it's really sad that people take advantage and would dump things illegally there," Bleything said.
Bland said he's expecting a big turnout and hopes that those who are dumping illegally would stop after seeing the effects first hand.
"Then we'll have a live band there called Outside The Line that's going to play music for everybody," Bland said.
"You know I wish I could say we wouldn't have the clean up next year, but unfortunately every year we do have the trash," Bland said.
Bland said between 5 and 8 tons of trash is removed from Beaver Lake each year.
Source:
www.4029tv.com