Corps Cracking Down On Artifact Hunters At Beaver Lake
23
Feb
2013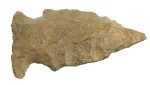 LITTLE ROCK, Ark. (AP) – A persistent drought in northwest Arkansas has left Beaver Lake below its normal level, and that has exposed Native American artifacts and other treasures along the shoreline.
The Army Corps of Engineers wants to make sure they stay there. On Friday, the lake was about 10 feet below its normal level and people walking near the water line can find arrowheads, stone tools and other items.
The Arkansas Democrat-Gazette reports that corps officials have found people simply picking up things they spot, while others are digging holes and actively looking. Some have brought metal detectors in the hope of finding old coins or buttons.
The corps is citing people caught digging illegally, which can bring a sentence of up to 10 years in prison and a $250,000 fine.