Corps To Deffer Permit Requests For Summer
26
Mar
2013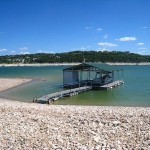 ROGERS, Ark. – As a result of budget constraints the Army Corps of Engineers Beaver Lake Project Office will defer all new requests for shoreline use permits until Oct. 1 allowing the Corps to shift its resources to support park operation and maintenance during the summer recreation season.
Beaver Lake park rangers who normally manage and issue shoreline use permits for docks, paths, mowing, etc., will instead be patrolling parks and assisting visitors during the upcoming recreation season. Additionally, the project office's duty ranger hours may be reduced as necessary.
While new requests for shoreline permits will not be accepted until Oct. 1, an effort will be made to address the backlog of existing shoreline use permit requests already submitted to the Beaver Project Office. These requests will be processed in accordance with the Beaver Lake Shoreline Management Plan as manpower can be made available and the lake level is appropriate for an evaluation of the site.
Permit holders are reminded that the terms and conditions of their permits will still be enforced and all zoning criteria and shoreline management regulations remain in effect. If you have any questions concerning shoreline requests of Beaver Lake, please contact Chief Ranger Jared Trammell by calling (479) 636-1210, ext. 1708.