Lake Levels Rise More Than Fourteen Feet in Three Days
25
Apr
2011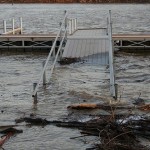 Nearly every campsite surrounding Beaver Lake is experiencing flooding Monday, and the lake level continues to rise.
Ranger Alan Bland and other rangers are currently barricading roads to prevent people from getting to flooded areas. The worst places Monday morning were: Rocky Branch, Dam Site Park, and Indian Creek. There's been a small mudslide at Lost Bridge South.Right now the lake level is at 1126 feet above sea level. Engineers will consider opening the flood gates at 1129, Bland said.
"There is a chance that we will be at 1130 feet in the next day or two. At 1130 water will splash over the gates, and we don't want that," Bland said. "That's the last thing we want to do is open the gates, but we might have to."
Table Rock Dam is generating extra loads on Monday to try to lower the lake level so it will be able to relieve some water from Beaver Lake, if needed. Bull Shoals Lake is lower than Beaver Lake and will be able to hold water from Beaver Lake and Table Rock.
The last time the gates were opened was in 2008, and several people in Carroll County downstream from the dam experienced massive flooding.
"We learned a lot of lessons from 2008 and we've had several meetings with Carroll County officials in case we have to do this again," Bland said.
Bland said it's possible that they could have to evacuate campgrounds downstream from the dam on Monday to prepare for the gates opening.
Army Corps of Engineers officials are meeting Monday at 12 p.m. to examine the situation.