Life Jackets Now On-Loan at Drowning-Plagued Beaver Lake
16
Aug
2012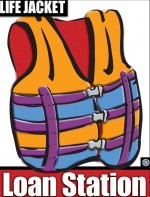 An unusually high number of drownings on Beaver Lake has park rangers working to make things safer.
The US Army Corps of Engineers installed the lake's first life jacket loaner station Sunday at Dam Site Park, providing free life jackets for people using the busy swim beach.
Jesse Agresto was surprised to see the life vests when he showed up at park with his three children Monday morning.
"I didn't know they had life jackets out here," Agresto says. "That was a nice touch."
Park Ranger Alan Bland says it was nice to see the system in use.
"Two youngsters already wearing that life jacket makes you feel good," Bland says. "We're just proud to have them up there. It could potentially save a life."
Bland says the Corps made the project a priority after two deaths on Aug. 4 brought the total number of drownings this year up to five.
"We're just one under a record and we hope to not get any more this year," he says. "We've still got a lot of good warm weather to go, a couple of months of warm water, so there's that chance out there."
Bland says the drownings could have been prevented if the victims were wearing life vests.
"If everybody would have had theirs on when they got in the water they'd still be here today," he says."We've had 114 drownings on the lake since it filled, and if everybody would have had a life jacket on when it happened we'd have zero drownings on the lake."
The station runs on an honor system, but Bland says if one or two life jackets go missing it won't be the end of the world.
"If they steal it we're going to try to find out who it is, and we'll write you a ticket," he says. "But If they want to steal this life jacket, at least they've got a life jacket with them and that may save a life we may never know of."
The Corps plans to install 11 more stations, one at each of the lake's swim beaches, by spring of 2013.
Source:
KOLR10 News