Monte Ne Future Remains Murky
17
Jul
2012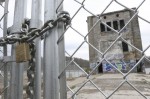 Patricia Campbell and her husband come out to the old Monte Ne site on Beaver Lake several times each year, to try to catch a glimpse of what once was.  "I love it, I love the history, I love the stories that I hear," she said.  The resort town, founded in the early 1900's, all but disappeared under Beaver Lake decades later.
The parts that still show, have fallen into disrepair.
The Army Corps of Engineers is trying to decide what the future holds for this piece of the past.
In February, the corps brought an historian and archeologist out to examine the site.
They're now putting together a document, detailing what the corps would have to do to restore and preserve Monte Ne or destroy it. That information will be complete by the end of September.
"There is some private groups that are looking at doing a feasibility study just to try to gauge the interest in the area," said Chief Ranger of Natural Resources Jared Trammell.
Those groups are expected to attend a public meeting about Monte Ne, hosted by the corps, Tuesday night at Rogers Heritage High School. The meeting will start at 6:30 p.m. in the high school's Lecture Hall.
Preservation would require funding the corps doesn't currently have.
And it cannot accept donations, so one of those private groups would have to step in.
"I think there is quite a few folks that are interested in preserving it and it is a neat structure to preserve. There are also folks that are interested in the removal of it as well," Trammell said.
Patricia would like to see the old town saved for future generations to enjoy.
"It's history, it's part of our history and once it's torn down we can't get it back, it's gone," she said.
Source:
http://nwahomepage.com