Nature Conservancy Pays $4 Million for Beaver Lake Land
21
Sep
2012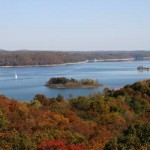 A three-mile stretch of undeveloped Beaver Lake shoreline is part of a 1,954-acre acquisition – purchased for $3.91 million – completed recently by the The Nature Conservancy of Arkansas.
The transaction was done at the request of the Arkansas Natural Heritage Commission, which has received preliminary approval to buy the land from the NCA and establish it as the state's 71st natural area.
The ANHC will be submitting a request for final approval from Gov. Mike Beebe. Once acquired by the state, the property will be incorporated into the Beaver Lake Wildlife Management Area.
"There are two really great results from this," said Scott Simon, the state director for the NCA. "The first is that a beautiful area will be open to the public for everyone to enjoy for a variety of issues. The second is this will keep the land natural. That means it helps protect Beaver Lake. It's a really great example of collaboration for conservation in Arkansas."
The NCA, an affiliate of the international nonprofit organization Nature Conservancy based in Virginia, bought the property – known as Devil's Eyebrow – from Guy McCollum and Len Thompson, through their Eagles Bluff LLC.
Source:
arkansasbusiness.com