Rogers Included In Outdoor Life's Top Towns
19
Apr
2012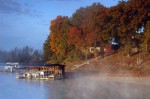 Now in its fifth year, our annual "Best Towns for Sportsmen" feature is an OL institution. Readers love to argue the merits of their burgs based on our rankings; local newspapers crow about the inclusion of their town; and realtors call to ask for extra copies of the issue.
This year OL is forgetting all the socio-economic data and focusing on what matters most: hunting and fishing.
This Year Rogers was named #25 on this  prestigious list.
#25 – Rogers, AR
In the heart of the Ozark Mountains, Rogers is a short drive from 31,700-acre Beaver Lake and its epic striped and largemouth bass fisheries.
You can find the entire list HERE