Swimmers Avoid Cool and Murky Waters
30
May
2011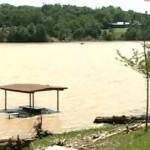 Beaver Lake is seeing fewer swimmers than normal for two main reasons.
Alan Bland of the U.S. Army of Engineers, said Sunday the traffic on the lake was light because people are afraid of the brown water.
"The water's fine," Bland said Sunday. "The water is safe. It just looks this way because of the recent rain."
The other reason for fewer people in the water is it's really cold.
"It's probably 4 or 5 degrees warmer normally," Bland said. "The rains have cooled things down."
Source:
www.4029tv.com