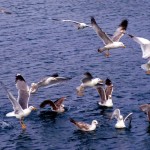 The wintertime waters of Beaver Lake are usual pretty quiet, but up above it's a much different story."25 years ago when I first saw them, I thought they were lost," said Ranger Alan Bland, but the thousands of seagulls who show up on Beaver Lake every winter aren't lost, they're just hungry."
While levels are nowhere near the 1105 level of early 2007, boaters should still exercise caution.
Officials of the Army Corps of Engineers urge boaters, dock owners and visitors at Beaver Lake to take extra safety measures because of the low lake level.  The lake is at elevation 1,115 feet, which is about five feet below top of the conservation pool. Read the rest of this entry »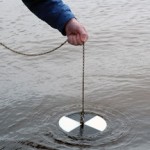 Once a year for the past five years, Beaver Lake has had an annual physical exam. And it's all thanks to volunteer scientists who take time out on a Saturday to help with the effort during Secchi Day on Beaver Lake, held in August each year. Read the rest of this entry »
Before you put your boat on ice for the winter, here's what you need to do to protect your investment.
Why put time and money into a boat that you're not going to use for six months? That's an all-too-common attitude when it comes to winterizing chores. Beeeg mistake. Winter weather can wreak havoc (cracked blocks, corrosion, etc.) on a boat that's not prepared for hibernation. Another tip: If your boat needs professional help and you wait until spring to get it, you're hitting the boat doctor at his busiest time. So it pays to take care of any problems and dealer-required maintenance in the fall, before your craft is clutched by winter's icy grip. Read the rest of this entry »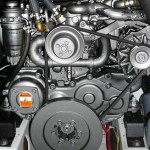 Sadly, it is the time of year for much of the country when performance boaters start the dreaded task of getting their boats ready for winter storage.
"Winterization not only protects a boat and engine from freeze damage, it also protects against long periods of sitting unused," says Scott Shogren of Shogren Performance Marine, adding "It also makes for less prep time in the spring when you're ready to get back on the water!" Read the rest of this entry »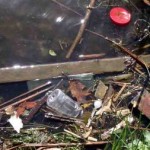 BEAVER LAKE, Ark. — Beaver Lake Ranger Alan Bland is frustrated with the amount of trash being dumped at Beaver Lake.
Bland is working to bring attention to the dumping problem with the lake's Annual Beaver Lake Cleanup, an event that brings the community out to pick up trash at the lake. Read the rest of this entry »
Clinging to his overturned 14-foot boat, the father desperately
searched for his family. Seeing his wife behind him, clinging to their seven-year-old daughter and a loose seat cushion, he yelled, "Are you alright?" Then he scrambled around the stern to find his sons. There they were, treading water 15 or 20 feet away. They weren't under the boat, thank God, but they weren't wearing life jackets either – none of them were. Read the rest of this entry »

A Vessel Safety Check is a courtesy examination of your boat (Vessel) to verify the presence and condition of certain Safety Equipment required by State and the Federal regulations. You can use this page to check your own boat then Use the  USCG's Virtual Vessel Examiner to check your vessel by simply answering a series of questions Read the rest of this entry »