Boating Accidents Claim One, Send Four More to Hospital
In: Boat Safety|Boating
2
Jul
2012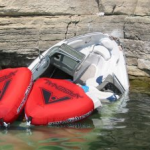 Two accidents within the last week have sent four boaters to the Hospital, while claiming the life of another.
A boat crash on Beaver Lake sent four people to the hospital the evening of June 26th.
Alan Bland with the Army Corp of Engineers says the boat hit the bluff at Coose Hallow in the Prairie Creek area. All four aboard were treated and released at Mercy hospital in Rogers, according to Bland.
Bland says no one was wearing a life jacket when they boat hit the bluff.  Investigators believe the crash happened while someone was filming people tubes.
The boat would have sunk if it hadn't lodged between a rock and the bluff, according to Bland
In another unrelated accident, Authorities are investigating a watercraft accident that killed a Fort Scott, Kan., man.
Cpl. Matt Guthrie with the Arkansas Game and Fish Commission told the Northwest Arkansas Times  that 33-year-old Corey Larson died in the accident in the Hogscald Hollow area about 6 p.m. Friday June 29th.
Guthrie says Larson and a friend were riding personal watercraft when Larson stopped abruptly in front of his friend. He says the friend didn't see Larson stop and his watercraft struck Larson from behind.
The Carroll County coroner pronounced Larson dead at the scene.
The accident is under investigation.
Source: