Time to Start a Diet?- New USCG Weight Rules for Passenger Vessels
In: Boat Safety|Boating
22
May
2011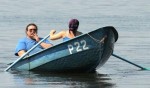 Last week the USCG announced that new passenger capacity rules would be going into effect in December, 2011. The Coast Guard has kept a wary eye on the growing obesity problem in the U.S. and will be raising the average weight calculation from 140 lbs (62.5 kgs.) to 185 lbs. (83.9 kgs.) — or an increase of 32% for all passenger vessels. That means that many of these boats will be reducing the number of passengers they can take. But does this ruling affect recreational boats?
Existing U.S. passenger vessel capacities were based on an average weight of 140 lbs. (63.5 kgs.) set in 1942. (Yes, the pix above has been photoshopped, but we couldn't resist it.)
Last week we contacted the USCG and asked if the capacity plates on recreational boats would now have to be changed just like passenger vessels. The answer is that the new "average weight" requirement would not apply to recreational craft which will continue to use the existing formulas to determine load capacity and the number of persons allowed aboard.
The reason that there will be no changes for recreational boats and yachts is that the existing formulas are still appropriate. The USCG is concerned about overloading and the proper distribution of weight in small vessels, and is monitoring the situation as Americans continue to grow in girth.
Enough Seats?
One of our observations about the "persons capacity" designation on boats is that it is often 2 to 3 people more than the number of seats available on small boats. We have been told by industry sources that those numbers are allowed because there are places on the boat to stand and if hand-holds are provided, then they counts toward the person capacity number. The USCG actually doesn't take a stand on this issue and is more concerned about the total passenger weight.
We advise boat buyers to make their own assessment of how many people the boat can actually hold comfortably and safely. To be safe, in our opinion there should be a place for everyone aboard to sit down and have a hand-hold available. And in no case should the number of people aboard exceed the number printed on manufacturer's plate by the helm.
Capsize Danger
Capsizing is one of the leading causes of boating accidents. These accidents usually occur in small jon boats that are overloaded and have unfortunate weight distribution and careless operation. Ideally there should be only one person sitting on a thwart. If there are two people they should be lightweight, such as children, and be cautioned about the quick shifting of weight and the danger of capsizing.
For now, friends, you can keep eating the Big Macs.
Source:
boattest.com