2010 Boat Sales estimates
In: Boating
25
May
2011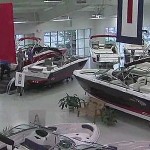 2010 was the year that pricing switched gears over the months, at different times for different brands and dealers, as non-current inventory was sold off. As the year progressed deep discounts, rebates and other cash incentive devices slowly dried up. Taking its place were far fewer new units, if any, priced where they needed to be for both builders and dealers to stay in business. After nearly three years of a "buyer's market" the new normal began in the boating marketplace. Many industry experts think that 2010 was a "transition year" to realistic pricing, low inventories or build-to-order, and so there was some sticker shock for consumers used to buying distressed merchandise.
2010 was another tough year for the boating industry, which is evolving to cope with the new paradigm. Non-current boats have pretty much been flushed out of the system.
Official sales numbers will not be available for weeks, but based on sales for the first three quarters of the year this is BoatTEST.com's ballpark estimate for what new boat sales were for 2010 by boat type–
 No matter which type of boat you bought or are planning to buy, you are in an elite group, particularly when you consider the current population of the U.S., which is 310 million according to the U.S. Census Bureau.
Source:
boattest.com