Spring Floods Cause Late Summer Fish Kill on Bull Shoals, Beaver, and Norfork Lakes
In: Fishing
20
Sep
2011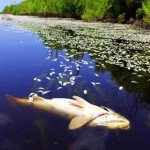 Spring Floods Cause Late Summer Fish Kill
Missouri conservation officials say flooding is killing fish in Bull Shoals Lake. The fish kill affected walleye, striped bass, yellow perch, suckers, drum and longear sunfish between Lead Hill Marina and Oakland Marina in Arkansas.
Officials are still trying to determine the impact, but they say the fish that died generally prefer cooler water. Cooler water in Bull Shoals is below 30 feet, and biologists say there's not enough oxygen that far down for the fish because of the after-effects of spring floods.
Similar circumstances to this have led to a small-scale striped bass die-off at Beaver Lake in Arkansas and a larger striped bass die-off on the Arkansas portion of Norfork Lake.
Missouri is working with the Arkansas Game and Fish Commission to investigate the issue.