Beaver Lake Angel, And Other "Treasures"
In: Misc
30
Jan
2012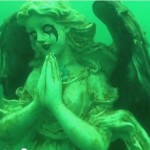 In case you didn't know, there is a whole other world under the waves of Beaver Lake. Beaver Lake is a great diving lake, especially the further downstream you go (North towards the Dam).  I came across this video and thought I would share.  I've seen much better visibility in the lake, especially where this is located- on the bluffs near the Dam. 
For those wanting to explore the "other side" of the lake you would be surprised at all of the "treasures" you can find! I know of several statues, a sunken bus and houseboat; there's even a helicopter!   Generally visibility  can be 25-35 ft, but in the summer you will have to dive below the thermocline to see that type of vis (due to the algae bloom)
For those wanting to find her,these are the directions:
After you go over Beaver Dam, turn left on Dam Site Rd. Then take your first left. after you pass the boat ramp there is some parking spots, rite after the last spot there is a trail in the trees. At the edge of the water is a tree, dive on the left side of the tree and it is about 20 to 25 feet deep and 50 yards out into the water. I hope that helps.
Below are a couple of other dive videos, showing some of the other Beaver Lake Treasures!